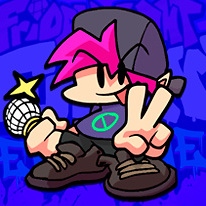 Friday Night Funkin': B-Sides
835,393 Plays
How to play Friday Night Funkin': B-Sides?
If you are a music lover and you have the rhythm inside your body with Friday Night Funkin': B Sides you will enjoy your passion like never before! It's time to have a great time with this mod of the famous and acclaimed Friday Night Funkin created by some fans of the famous game in which you can test your musical knowledge, your rhythm and your skills at the keyboard.
Get ready to shake your skeleton while the music plays, and show the whole world that you are crazy in love with your girlfriend and that you would do anything to be by her side! Your families are completely opposed to this Romeo and Juliet style relationship, and there's nothing you can do to change their minds, except for one thing! Your loved one's family is passionate about music, they're all world-famous rock artists and would only allow their little girl to be in a relationship with a real musician. It's time to put your talent to the test in front of the microphone and sing until your vocal chords can't take it anymore! Will you manage to impress them once and for all to live a free and passionate love?
Enjoy a new remix of their music every week and experience a much more colorful characters for a fresh and fun adventure, or if you prefer; enjoy the old desaturated look and feel of the game compatible with other mods, complete the tutorial to learn how to play the game with ease and get into the fun!
Who created Friday Night Funkin': B-Sides?
This game was developed by NinjaMuffin99, Phantom Arcade and Block, with art by Evilsk8r and music by Kawai Sprite.
Minitorneos, chat & make friends
🕹️ Which games are similar to Friday Night Funkin': B-Sides?
❤️ Which are the latest Music Games similar to Friday Night Funkin': B-Sides?
🔥 Which are the most played games like Friday Night Funkin': B-Sides?