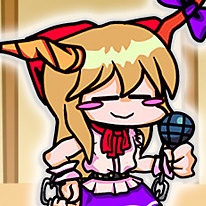 Friday Night Funkin': Broken Moon
12,865 Plays
How to play Friday Night Funkin': Broken Moon?
After months of dedication and work the new mod Friday Night Funkin': Broken Moon has arrived in your hands ready to test you and squeeze every last drop of rhythm left inside you. Are you ready to feel the adrenaline in your skin once again thanks to the music?
Step into the shoes of the beautiful and cheerful Suika Ibuki, the protagonist of the Touhou series and get ready to enjoy a modified tutorial song, 5 new character swaps, an out-of-the-ordinary experience in week 5 and hundreds of other surprises. Prove once again as Boyfriend that you're willing to fight to the end for the love and support of your girlfriend, feel the beat, press the arrow at the right time and duel to the death to prove who's the best singer in town!
Who created Friday Night Funkin': Broken Moon?
This mod was developed by BlackTiger2000 and WhippyorcYT.