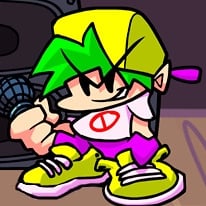 Friday Night Funkin': B3 REMIXED
134,266 Plays
How to play Friday Night Funkin' B3 REMIXED?
You're a music freak and your life revolves around her and your girlfriend! But her family doesn't think you're worthy of her love and will do everything in their power to keep you apart. Can you overcome the ordeal of love that life is trying to put you through in Friday Night Funkin': B3 REMIXED and win the love of your sweetheart's family once and for all? Have the time of your life with this new mod of the fun and famous Friday Night Funkin' created by its biggest fans as you shake your skeleton and sing along to the most amazing music tracks.
Only a musical expert will be able to face this test in which temperance, reflexes and rhythm will be the most important to overcome it. Win back your beloved while proving to her parents that you're the best street musician in town. Are you ready? Only then will they consider you worthy of their love! Grab the microphone as only you know how and get ready for a unique musical experience - every week you'll get the chance to enjoy new remixes! Immerse yourself in this exciting story thanks to colorful graphics with a cheerful style, which will make you live a unique experience. And if you can't get enough with just one version, you can also enjoy other compatible mods, so start practicing with the tutorial to learn how to play the game and show what you can do!
Who created Friday Night Funkin': B3 REMIXED?
This game was developed by NinjaMuffin99, Phantom Arcade, Block and Evilsk8r did the art and Kawai Sprite music.
Minitorneos, chat & make friends
🕹️ Which games are similar to Friday Night Funkin': B3 REMIXED?
❤️ Which are the latest Music Games similar to Friday Night Funkin': B3 REMIXED?
🔥 Which are the most played games like Friday Night Funkin': B3 REMIXED?