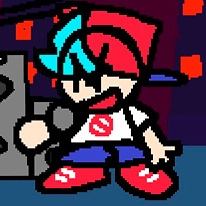 Friday Night Funkin' but Bad
56,394 Plays
How to play Friday Night Funkin' but Bad?
Once again the excitement and the rhythm are ready to make you enjoy a unique adventure. Will you have the patience and the pulse necessary to overcome your opponents in Friday Night Funkin' but Bad? This fun mod won't leave you indifferent.
This time you will enjoy special and colorful graphics drawn entirely with "Microsoft Paint". Yes, you read that right! It's time to prove your worth to your beloved girlfriend as you face tough musical battles in a fluid, pixel-style, blurred environment. Get ready to feel the rhythm on your skin and prove who's the king of the dance floor as you knock all your opponents to the ground. Good luck!

Who created Friday Night Funkin' but Bad?
This mod has been developed by CLF.