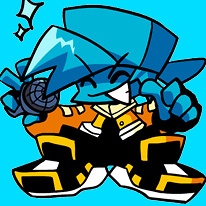 Friday Night Funkin' Blue BF
38,645 Plays
How to play Friday Night Funkin' Blue BF?
Are you thirsty to face a new mod with frenetic rhythm and lots of thrills? Then Friday Night Funkin' Blue BF is made for you! Get ready to put your amazing musical skills and good reaction skills to the test once again as you pay attention to the notes, arrows and sounds of each level.
Only someone like you, with an impeccable sense of rhythm and a well-developed ear, will be able to play the musical notes as fast as your opponents! This time our dear boyfriend will have to face this tough challenge with his skin dyed blue, will you be able to prove once again who you are to win back the lost love of your beloved girlfriend? Face your biggest nightmares with great honor and fight against the best opponents such as Ex Rockstar, Spooky Mouth or Dino Pico.
Who created Friday Night Funkin' Blue BF?
This game was animated by IagoAnims, designed by AshGray_Art, Pyroblujay and Ness, and coded by DevilHare, Smokey 5, Bbpanzu, Rozebud, Cval and Hayasgpt.