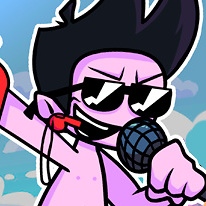 Friday Night Funkin' Beach Brother
67,634 Plays
How to play Friday Night Funkin' Beach Brother?
Once again Boyfriend will have to prove his worth with a microphone in his hands if he wants to win back the love of his beloved and the affection of his in-laws. Will you be able to prove your talent in the new mod called Friday Night Funkin' Beach Brother?
Now, you'll have to face off against the bride's brother, a beach hottie with a good job as a lifeguard and a great command of rhythm who drives all the girls crazy with his incredible skills. You won't have an easy time passing the test this time! Give it your all in this tough showdown and prove once again that you're the only king of the dance floor capable of keeping the crown safe and therefore your girlfriend's love. Press the arrows at the right time to the music and don't miss a single match - your relationship depends on your patience and precision!
Who created Friday Night Funkin' Beach Brother?
This mod was animated and designed by Squizzle Dizzle, music composed by Piesariusz27 and developed by GWebDev.