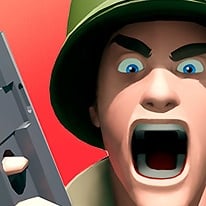 Fields of Fury
-
30,892 Plays
How to play Fields of Fury?
Grab your weapons and get ready to dive into a tough battle for survival in the game Field of Fury! Step into the shoes of an elite soldier in the midst of World War II and enjoy incredibly special graphics while feeling the excitement in your skin at all times.
Have fun playing against people from all over the world in a unique environment with magical graphics and incredibly realistic physics. The game will be formed by two teams; one red and one blue, you will belong to one of them and you will have to do everything necessary to survive and annihilate one by one the members of the enemy team. Try to protect your back at all times and go through an infinite environment while unlocking all the available weapons. Will you manage to capture all the enemy flags in time while causing a lot of damage to your opponents? Have a great time!
Minitorneos, chat & make friends
🕹️ Which games are similar to Fields of Fury?
❤️ Which are the latest Action Games similar to Fields of Fury?
🔥 Which are the most played games like Fields of Fury?