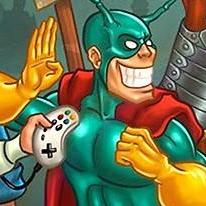 Chronicles of Nerdia
-
99,038 Plays
How to play Chronicles of Nerdia?
It's time to the rescue the world! Corrupt politicians, crazy scientists, violent mutants, ancient gods and even treacherous aliens millions of light years behind... Well, we're not sure why now, but we know that no one goes through space-time just to say 'Hi, I come in peace!' After all, you don't even visit your grandmother, who lives on the floor below, to say hello.... So, You have to fight against those villains to restore the peace. How can you save the world of their problems, little nerd? Train hard and find the appropriate equipment to defeat these beasts. Join other superheroes to form alliances around the planet. Meet them at the secret headquarters and plan how to defeat the evil.
Minitorneos, chat & make friends
🕹️ Which games are similar to Chronicles of Nerdia?
❤️ Which are the latest Multiplayer Games similar to Chronicles of Nerdia?
🔥 Which are the most played games like Chronicles of Nerdia?