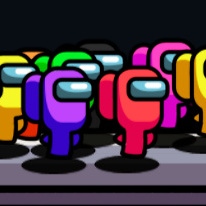 Among Us: Space Rush
43,714 Plays
How to play Among Us: Space Rush?
Among Us: Space Rush is an exciting platform game inspired by the famous game of Among Us in which you have to run at full speed alongside your character and without looking back while avoiding dozens of traps and obstacles along the way.
Avoid falling off a deep cliff or colliding with dangerous bombs and have fun trying to complete your mission to reach the goal safely with as many characters as possible. Rescue your faithful companions from jail, unlock some achievements to improve your skills and enjoy this addictive and exciting adventure game. Have fun!