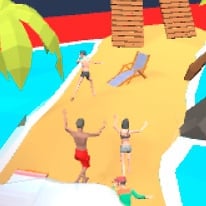 Survive-the Tsunami
3,508 Plays
How to play Survive-the Tsunami?
Are you ready to live a unique experience in Survive the Tsunami? Your dream vacation has been cut short by a small problem - a giant wave is coming ashore and there's nothing and no one to stop it! Your only chance of survival is to find a way to make it safely to the huge ship on the other side of the beach.

Run as fast as you can without looking back as you collect floats and try to step on the small dirt paths or bridges that are still above sea level. Each level will be a real challenge! Are you ready to overcome them all? Test your speed and reflexes as you try to save your life before it's too late!