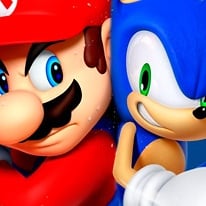 Sonic in Super Mario 64
104,498 Plays
How to play Sonic in Super Mario 64?
Are you ready for a special adventure? Our beloved blue hedgehog has snuck into the world of Mario in Sonic in Super Mario 64! Princess Peach has baked a delicious cake and invited Mario to visit the castle to taste it, but instead of Mario it's Sonic who travels the endless corridors of the castle!
Will you be able to find all the stars of power? Jump around, explore every corner of this world, pass through secret entrances and paintings that will take you to other worlds and avoid some enemies trying to take you out of the game. Have fun!
What features stand out in Sonic in Super Mario 64?
Enjoy incredible 3D graphics.
Take control of Sonic in the classic world of our beloved Mario.
Explore a magical environment.
Collect all the stars that come your way.
Avoid being killed by dangerous enemies.
t

SUBIR

f

IZQUIERDA

g

BAJAR

h

DERECHA

z

JUMP

x

PUNCH