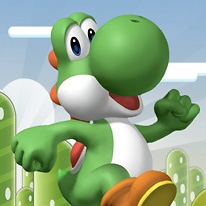 Super Mario 64: Yoshi Playable
21,162 Plays
How to play Super Mario 64: Yoshi Playable?
Now you have the chance to play Super Mario 64 in the skin of Yoshi! Step into the shoes of our beloved green friend and explore the mushroom kingdom in Super Mario 64: Yoshi Playable- get ready for a different kind of adventure with new levels, many more stars, new enemies and up to 12 different power ups!
Don't waste any time and join this different kind of adventure as you test your skills and play through hundreds of 3D levels with Yoshi, facing all kinds of dangers and numerous obstacles to help him reach the end of each level safely and get one step closer to rescuing the beautiful Princess Peach! Fight your worst nightmares, avoid falling into dangerous death traps and survive until you reach the final castle in each level - good luck!
t

SUBIR

f

IZQUIERDA

g

BAJAR

h

DERECHA

z

JUMP

x

ATTACK