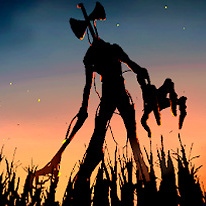 Siren Head: Sound of Despair
332,413 Plays
How to play Siren Head: Sound of Despair?
Siren Head is one of the many creatures created by Trevor Henderson.
It is a strange creature that possesses a great height, by which it is recognizable. It is a hostile and predatory being that lurks in the darkness of the woods, and sometimes, in some villages.
The first sighting occurred in 1966 when a family vacationing in the Arizona desert captured an image of Siren Head. However, it is implied that Siren Head has existed since the beginning of mankind and the earth.
In this Siren Head game it's up to you to take on this mermaid head monster in this horror game with the help of an axe and whatever you find along the way.
Where does Siren Head come out?
Siren Head is mainly found in rural villages and forest areas. Siren Head's victims are lost travelers, hikers and even small children. If the sounds of someone in distress are heard, it may be a method of Siren Head trying to lure victims into the woods.
Siren Head Characteristics:
Armament: None of note.
Intelligence: Above Average. He is a skilled hunter who knows how to adapt to any environment and stalk his prey, he was even able to create his own language.
Weaknesses: None notable.
How to play Siren Head: Sound of Despair?
Enjoy and be truly scared with Siren Head: Sound of Despair! A terrifying first-person action-adventure horror game in which you take on the role of a woman whose husband has been kidnapped while spending a romantic night camping in the woods.
Travel through the dark and sinister forest armed with a sharp axe and prepare to face a monstrous creature called Siren Head. It's time to test your courage and try to mercilessly slay this terrifying creature before it takes your husband's life. Run without looking back, collect some items to defend yourself and make it to safety the next morning.
What qualities does Siren Head: Sound of Despair have to offer?
3D graphics that will transport you right into this sinister adventure.
Scour the dark forest in search of weapons.
Confront a terrifying mutant creature before it murders your husband.
Run without looking back.
Survive your worst nightmare.
MOVE

AIM

SHOOT

JUMP

f

USAR OBJETO

x

AGACHARTE

v

FUERZA DE ATAQUE

m

MAPA
Minitorneos, chat & make friends
🕹️ Which games are similar to Siren Head: Sound of Despair?
❤️ Which are the latest Action Games similar to Siren Head: Sound of Despair?
🔥 Which are the most played games like Siren Head: Sound of Despair?