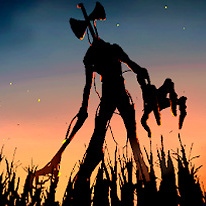 Siren Head: Sound of Despair
84,090 Plays
How to play Siren Head: Sound of Despair?
Enjoy and spend real fear with Siren Head: Sound of Despair! A first-person action-adventure game in which you must play the role of a woman whose husband has been kidnapped while spending a romantic night camping in the forest.
Travel through the dark and sinister forest armed with a sharp axe and prepare to face a monstrous creature called Siren Head. It's time to test your courage and attempt to mercilessly murder this terrifying creature before it ends your husband's life. Run without looking back, pick up some items to defend yourself with, and make it to safety the next morning.
What qualities does Siren Head: Sound of despair offer us?
3-D graphics that will transport you deep into this sinister adventure.
Run through the dark forest in search of weapons.
Face a terrifying mutant creature before it kills your husband.
Run without looking back.
Survive your worst nightmare.
MOVE

AIM

SHOOT

JUMP

f

USAR OBJETO

x

AGACHARTE

v

FUERZA DE ATAQUE

m

MAPA