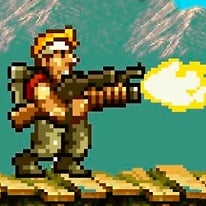 Metal Slug
2,269,445 Plays
How to play Metal Slug?
Metal Slug, the classic of the Neo-Geo arcade machines comes to Minigames with its browser version and in all its splendor. Experience the fiercest battles, fight against the most fearsome war machines and defeat countless waves of enemies. Enjoy the detailed pixel graphics and great gameplay. Choose your soldier, reload your weapon and take to the battlefield. Can you take on all the enemies?
How to play Metal Slug?
Metal Slug puts you in the shoes of 4 experienced soldiers: Marco, Tarma, Fio and Eri. And you'll face huge waves of enemy soldiers and vehicles that you'll have to defeat to reach the end of each mission. To start playing press "Enter" and choose whether you want to play alone or with a partner. Once the mission has started, use the arrow keys on your keyboard to move your character and direct his shots and jumps. To jump, press the "X" key, to shoot use the "S" key and to throw grenades, use the "Z" key.
Need some tips on how to get better at Metal Slug?
When using the tank, you can change the angle of fire using the slopes of the terrain. Don't waste ammo on the shielded soldiers, you can easily take them down using melee attacks. When things get chaotic take a break and think about your next move, you have enough time and you will surely find a way to resolve the situation. Sometimes groups of helicopters appear with a red one in the lead. Shoot this one first to destroy them all in a chain. And don't forget that your character can shoot downwards if you jump and press "down" on the crosshead while shooting.
Who created the original Metal Slug?
Metal Slug is a game belonging to the "run and gun" and "shoot'em up" genres. It was developed by SNK and released in 1996 for the Neo-Geo arcade machines. It was later adapted for the Sega Saturn and Playstation consoles. Since then, almost 30 versions of this acclaimed game have been released.
MOVE

s

SHOOT

z

GRANADA

x

JUMP
Minitorneos, chat & make friends
🕹️ Which games are similar to Metal Slug?
❤️ Which are the latest Classic Games similar to Metal Slug?
📽️ Which are the most viewed videos and gameplays for Metal Slug?