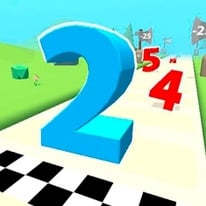 Number Merge
27,153 Plays
How to play Number Merge?
In Number Merge you must collect the biggest numbers and go through all the walls! Sounds simple, doesn't it?
Control your number by finding the optimal path and avoiding all obstacles. Absorb the smaller numbers and become bigger and stronger. Reach the finish line and get the maximum number of points - it's time to test your agility in this exciting game!
What are the special features of Number Merge?
Beautiful 3D graphics.
Simple and intuitive controls
Soothing music and sound effects
Varied gameplay: over 99 levels of increasing difficulty.
You start the game with a small number. During the race, merge with other numbers that are smaller than yours, they are painted in green. Try not to collide with red numbers that are bigger than yours. Otherwise, you will lose your number and you will have to restart the level. Jump over ditches, cross bridges and avoid chainsaws. At the finish line, you will face many walls. Knock down the walls one by one with your big number and become a master of numbers!
Who created Number Merge?
SmartLynx has developed this fun number game.

Minitorneos, chat & make friends
🕹️ Which games are similar to Number Merge?
❤️ Which are the latest Kids Games similar to Number Merge?