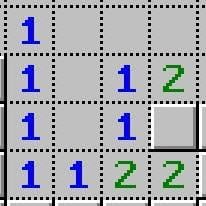 Minesweeper Game
207,481 Plays
How to play Minesweeper Game?
Enjoy a classic among classics, the magnificent Minesweeper. This is a game to discover mines by testing yourself in which you have several levels:
Beginner level: 9 × 9 squares and 10 mines.
Intermediate level: 16 × 16 squares and 40 mines.
Expert level: 16 × 30 squares and 99 mines.
Minesweeper is a single-player video game invented in 1989 that owes its popularity to the versions included in Microsoft Windows operating systems.
You start on a grid board where some of the cells contain mines. The objective is to discover all the squares that do not contain mines. If you open a square containing a mine, you have lost the game. To do this, the edges of the cells will be marked with a number indicating the number of mines in the adjacent cells.
To deactivate a mine you only have to put a flag on the square where the mine may be by right clicking on it. These squares will not flip over if you accidentally click on them.
This is a game to learn by playing so don't waste any more time and enjoy a game of Minesweeper right now.
Minitorneos, chat & make friends
🕹️ Which games are similar to Minesweeper Game?
❤️ Which are the latest Classic Games similar to Minesweeper Game?
🔥 Which are the most played games like Minesweeper Game?