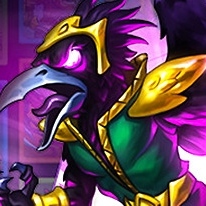 Mighty Party
-
102,622 Plays
How to play Mighty Party?
Are you ready to fight horrible creatures and restore peace in the kingdom of the Mighty Party? Take command of an army led by your hero and fight powerful and formidable opponents in strategic turn-based battles. Earn fame, experience, and gold to enhance your troops and your hero, and build your army in the best way to defeat your opponents. Mighty Party offers an exciting single-player campaign and intense multiplayer battles that will allow you to progress through the different leagues and win many rewards.

Mighty Party offers a turn-based combat system where the composition of your army will be decisive. Defend the front line with units that have plenty of hit points to damage tanks and protect your archers, mages and other healers so they can do maximum damage without being hit by enemy units.

There are several battlefields with varied obstacles and a large cadre of heroes with unique skills to test your ability as strategists. Discover the map, take down fearsome bosses and fantastic creatures, create your own story, accept missions and embark on an adventure. Gather an army and lead your mighty team to victory.

Gather and evolve hundreds of heroes and monsters with unique talents and combinations of incredible magical and physical abilities. Improve both your equipment and your skills, delight in new costumes and talents and make your team much stronger. Warriors, knights, undead, mages, elves, dragons, orcs... There are hundreds of magical creatures and characters to choose from!

Plan your offensive and defensive strategy well in turns with the help of thousands of card combinations - it's not all about using the strongest heroes without thinking! Use your wits, devise tactics and strategies and use brute force to finish off your enemies.

Team up with other players in guilds or clans to crush your opponents and bosses to get the best rewards and take the crown in this chess battle role-playing game.

Evolve your warrior to look better and have more powerful talents. Then combine it with the monster-hero chess battle deck.
Minitorneos, chat & make friends
🕹️ Which games are similar to Mighty Party?
❤️ Which are the latest Multiplayer Games similar to Mighty Party?
🔥 Which are the most played games like Mighty Party?