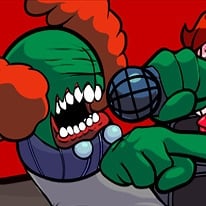 Friday Night Funkin': The Tricky Mod
439,747 Plays
How to play Friday Night Funkin': The Tricky Mod?
Have a blast with Friday Night Funkin': The Tricky Mod in a fun new mod with a very special guest character - as always, test your incredible reflexes and amazing reaction skills! Demonstrate your precision in every single move as you move and sing along to the rhythm of the music and colored arrows.

Are you ready to face a new rival? The guest character is Tricky the Clown, the sinister clown protagonist of the game Madness Combat. At first, his face will be covered to protect his identity with a big mask, but once you get past him in one of your battles, you'll be able to discover his terrible appearance. Enjoy two new special songs called "Improbable Outset" and "Madness" that will require a lot of patience and practice if you want to play them without a single failure. Meanwhile, your girlfriend will be anxiously awaiting your victory sitting on a big speaker.
Who created Friday Night Funkin': The Tricky Mod?
This game was developed by Banbuds and the two new music tracks were composed by Rozebud.