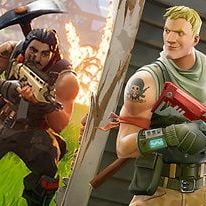 Fortnite
-
8,761,007 Plays
How to play Fortnite?
The milestone in the world of online multiplayer games, FORNITE, has arrived in Miniplay. The ultimate Battle Royale, which millions of players are playing around the world right now. Here you can see hundreds of gameplays that prove it.
Play Fortnite and face millions of players from all over the world in games of up to 100 people at a time, where only the last one standing will win. Fight directly by hunting down other players or hide and let the others destroy each other.
A Battle Royale is a survival game in which you play on your own, or as a team, against a large number of enemy players on a giant map. Each player starts with a minimum set of equipment and will have to find or borrow from downbeat players what they need to win. In the meantime, the scenario is slowly shrinking, reducing the playing area to make players get together and play against each other. The last player or team standing will win the game.
Fortnite mixes the mechanics of a Battle Royale, with the mechanics of platform building. You can collect resources from the map by destroying almost everything you find and build structures that will help you protect yourself from enemy fire or attack from a higher altitude.
How many game modes are there in Fortnite?
Solo: Fight all against all. Standard rules. The last player standing wins the game.
Duos: combat in pairs, randomly joined or with friends if you connect together. Standard rules. In this mode, if you are knocked down by your opponent, your partner can revive you. The last team standing wins the game.
Squads: Fight in teams of up to 4 players, joined at random or with friends if you connect together. Standard rules. Same rules for reanimating teammates as for duos. The last team standing wins the game.
Team Battle: combat by teams of up to 20 players, facing two sides. In this game mode the player can reappear after being eliminated and continue playing. The purpose of this game mode is to reach the target number of eliminations.
Battle Lab: This is Fortnite's sandbox mode, where players can practice their building skills, their marksmanship or their strategies. They have free movement around the map without the game area being reduced.
Arena Mode: This is the competitive mode in Fortnite. It includes the Solo, Duos and Squads game modes, but players will be rewarded in the games with points that will help them qualify for the different official leagues available, as well as access to weekly Epic Games tournaments.
Fiesta Royale: A mode in which all lethal weapons have been removed from the original modes and replaced with paint weapons and a variety of non-lethal items. Construction mechanics have been removed and new activities are promoted such as Quad Bike Races and Boat Races.
Who created Fortnite?
It was created by Epic Games in 2011, originally conceived as a combination of the games Minecraft and Left 4 Dead where players collaborate to search for resources, build fortifications, traps and weapons, and survive monster attacks.
During its development, PlayerUnknown's Battlegrounds (PUBG) was released and in a very short time it garnered a great deal of critical acclaim and player numbers. The creators of Fortnite saw that the Battle Royale gameplay was easily adaptable to their existing platform, and so after a few months of development they announced Fornite: Battle Royale in 2017. Since then, it has become a massively popular game that continues to attract people of all ages on a daily basis and is constantly being updated with new events, customisation features and weapons. It is one of the most played games on the Twitch and Youtube platforms.
Fortnite is available for every platform you can imagine: PC, Mac, Playstation, Xbox, Nintendo Switch and mobile, iOS and Android - making sure no one is left out of the game!


You haven't tried Fortnite yet? What are you waiting for?
Minitorneos, chat & make friends
🕹️ Which games are similar to Fortnite?
❤️ Which are the latest Action Games similar to Fortnite?
📽️ Which are the most viewed videos and gameplays for Fortnite?