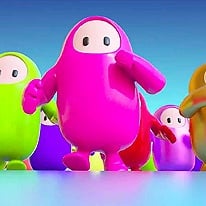 Fall Beans: Ultimate Knockout
-
10,412 Plays
How to play Fall Beans: Ultimate Knockout?
Dozens of fun and colorful races set in different scenarios are waiting for you in Fall Beans: Ultimate Knockout ready to make you have a great time! Put your senses on alert and get ready to test your physical skills to survive hundreds of dangers that will make your path really complicated. Are you ready to live all the thrill of an obstacle race in your skin?
The goal of the game is to advance as fast as you can and reach the finish line without being eliminated by any of the dangerous traps along the way. Compete against dozens of opponents and be among the first 10 players to cross the finish line to qualify for the next race. Good luck!