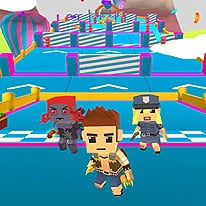 Fall Boys: Ultimate Race Tournament
-
184,295 Plays
How to play Fall Boys: Ultimate Race Tournament?
Are you ready to have fun in a fun-filled race with your friends in Fall Boys: Ultimate Race Tournament? This exciting multiplayer game where you can run and jump non-stop will make it difficult for you to advance because of the many traps and obstacles that will be in your path.
If you're not fast enough you'll take hundreds of hits that will drive you off the road! Get ready to be the first to cross the finish line by testing all your reflexes. As the game progresses you'll have the opportunity to unlock new maps and characters - enjoy the best gameplay experience you can imagine and have a great time!