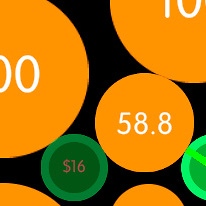 Fall Ball Fall
8,880 Plays
How to play Fall Ball Fall?
Get ready to enjoy with Fall Ball Fall an incredible puzzle game where you will have the chance to buy with your money powerful cannons that will shoot huge orange balls with 100 points inside. Each shot will reduce the size of the circles allowing them to fall to the bottom of the screen and even make them disappear.
Increase the money in your wallet from your cannon fire and buy new upgrades and weapons to destroy every last orange ball on the screen. Are you ready to enjoy your management skills and develop your infinite patience?
Who created Fall Ball Fall?
This game has been developed by PeachTreeOath