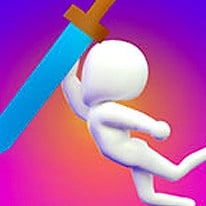 Draw Weapons Rush
14,807 Plays
How to play Draw Weapons Rush?
Draw Weapons Rush is an exciting arcade game in which you'll have to do your best to reach the finish line safely! Draw your swords in the lower box of the screen and manage to kill all your enemies along the way if you want to reach the end alive.
Dodge all kinds of obstacles, try not to fall off the cliff and draw any weapon you can think of to complete your mission - you can change your weapon at any time! Prepare for battle and have a great time...