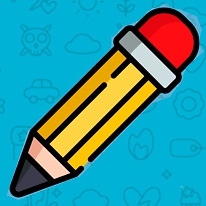 Drawar.io
-
220,132 Plays
How to play Drawar.io?
Are you a good drawer? Get ready to prove it by having a great time in Drawar.io! Take on players from any corner of the world as you guess what they have drawn in the shortest time possible or try to clearly draw the objects, concepts, animals or people proposed by the game before your time runs out.
Think of the best way to represent the word the game suggests and find a way to get to the top of the leaderboard! Think you'll be able to relax once you get to the top? Many players will start looking for you with the intention of stealing all your achievements so be very careful and manage to keep your championship title!
What are the characteristics of Drawar.io?
Customize your avatar to your liking
Enjoy taking on players from all over the world.
Show your skills and draw as well as you can.
Guess what concept or object your opponents are drawing to increase your score.
Get the highest score.
Minitorneos, chat & make friends
🕹️ Which games are similar to Drawar.io?
❤️ Which are the latest Kids Games similar to Drawar.io?
🔥 Which are the most played games like Drawar.io?