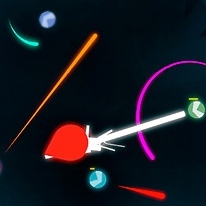 Acolyte Fight
-
6,213 Plays
How to play Acolyte Fight?
Acolyte Fight is a multiplayer action game where participants will learn to develop the ability to control the speed, distance and behaviour of each shot they make with their powerful laser beam. Learn to predict the direction of each attack and dodge your dangerous enemies who are ready to destroy you at any cost. Will you be the last survivor?
Drive your powerful spaceship with ease, always shoot at the right time to knock down your opponents, test your incredible reflexes and find a way to get to the top of the leaderboard - become number 1 and have fun!
What are the features of Acolyte Fight?
Simple graphics with incredible physics.
Shoot your opponents with your laser beam.
Learn to control speed, distance and shooting behavior.
You have 30 different spell types.
Find the perfect combinations of some attacks to win.