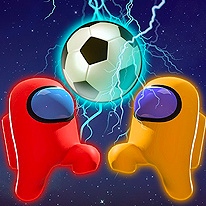 2 Player Among Soccer
12,587 Plays
How to play 2 Player Among Soccer?
The protagonists of one of the most famous games of recent times come to 2 Player Among Soccer ready to demonstrate their fantastic mastery of the soccer ball! Put your reflexes to the test as you move nimbly to hit the ball straight into the opponent's goal and become the goal scorer of the year.
Are you ready to enjoy your favorite sport in a thick astronaut suit? Don't let limited moves make you a clear loser of the battle. You'll have exactly 60 seconds to score as many goals as you can and win the match - good luck!
Who created 2 Player Among Soccer?

This game was developed by Hihoy Games.