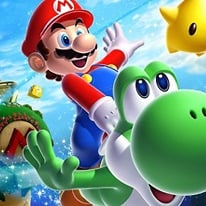 Super Mario Bros Riders
115,363 Plays
How to play Super Mario Bros Riders?
With Super Mario Bros Riders, enjoy a thrilling race through a world full of traps, magic stars and lots of dangerous enemies, and join in this different adventure with our beloved Mario and his faithful friend Yoshi!
Help them reach the castles at the end of each level safely and get one step closer to rescuing the beautiful Princess Peach! Will you be brave enough to face this adventure? Jump around, collect lots of coins, avoid falling off the cliffs or getting caught in the mouth of dangerous carnivorous traps, and break any bricks that get in your way - good luck!