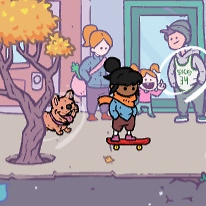 Spot and Click
3,079 Plays
How to play Spot and Click?
Have a great time with Spot & Click in a fun game in which you will have to test your eyesight to find the differences between the two moving scenes. It seems like a simple task! But will you be able to spot even the smallest differences?
Only 25 differences separate you from success! Enjoy simple, detailed graphics depicting an everyday scene of a young girl walking her dog on her skateboard through a busy neighborhood street. Observe your surroundings carefully and prove that you can complete your goal without ever losing your patience.
Who created Spot & Click?
This game was developed by Juicy Beast.