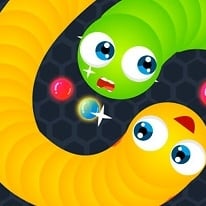 Snake.io: Angry Slither Worm
-
21,902 Plays
Snake.io: Angry Slither Worm details
Challenge your enemies and try to become the biggest worm in Snake.io! Simply test your reflexes and carefully move through a hostile environment filled with opponents ready to devour you. Avoid crashing into them or you'll disintegrate into hundreds of colored balls, but if you get the chance to surround your opponents you'll have the chance to devour them completely and grow up to be the king of the game. Slide around the screen and show that even the little ones can make it to the top with a little effort and willingness to fight.
What features can you find in Snake.io Angry Slither Worm?
Take on players from every corner of the world.
Devour colored balls to grow.
Dodge enemy attacks and protect your life
Try to stay on stage.
Grow up to own the game.