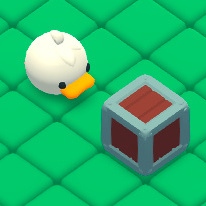 Push the Box 3D
4,486 Plays
How to play Push the Box 3D?
Push The Box 3D is an amazing and exciting puzzle and maze game in which you have to help a little lost duckling to reach the final gem in each level. Carefully plan your moves to move some wooden boxes to the gaps in the path to build a sturdy bridge to your destination.
You'll have a total of 30 exciting levels full of puzzles to solve, so test your wits and figure out the right path to successfully complete your mission. Don't give up in the face of adversity and prove that only a brilliant mind like yours will be able to make it to the end alive. Good luck!
Who created Push the Box 3D?
This game is made by Nannings Games.