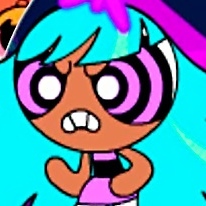 Powerpuff Girls: Hypno Bliss
18,594 Plays
How to play Powerpuff Girls: Hypno Bliss?
Are you ready for a great adventure inspired by a classic Cartoon Network series? Enjoy Powerpuff Girls Hypno Bliss and join our adorable Powerpuff Girls for another unique experience! Little Bliss has been hypnotized by a terrible villain in the city of Townsville and only our brave friends will be able to confront her to bring her back to normal.

Explore a hostile environment full of traps and obstacles as you collect all the stars along the way and find the fastest and safest way to reach the teleporter that will take you safely to the next mission. Will you be brave enough to face this tough and dangerous mission? Good luck...