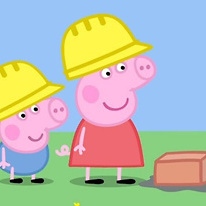 Peppa Pig The New House
38,695 Plays
How to play Peppa Pig The New House?
Peppa's family, they need to move to a bigger house! The old house has become too small and George and Peppa have decided to help their parents with the design and construction. Join our friends on a fun adventure in Peppa Pig The New House!
Mix the cement, place the bricks in order and well aligned, build sturdy walls, choose the color of the walls, select the best windows and finally place the roof centered and in balance on the walls. Get the Peppa family happy and enjoy their new home!