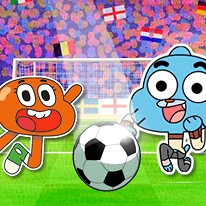 Penalty Power 2021
156,328 Plays
How to play Penalty Power 2021?
Penalty Power 2021, an incredible football game dedicated to Euro 2021, is a great game to play!
Play alongside characters from your favorite TV series! Darwin, Gumball, Apple and Onion, Wonder Woman, BumbleBee, Mao Mao and many more will join you again in a unique adventure where you will have to test your reflexes and your skills as a professional footballer. Protect your goal from your opponents' goals and score as many goals as possible in the opponent's goal - will you be able to win the title? It's time to become the champion of the Cartoon Network's European Football Cup!
Features:

Choose a captain for your team and a good goalkeeper from 16 characters.
Unlock 6 levels to reach the grand final.
Aim and shoot in the right direction with all your might to score a goal.
Test your reflexes to protect your goal.
You have a total of 45 seconds to score as many goals as you can or prevent your opponents' goals.
Minitorneos, chat & make friends
🕹️ Which games are similar to Penalty Power 2021?
❤️ Which are the latest Kids Games similar to Penalty Power 2021?
🔥 Which are the most played games like Penalty Power 2021?