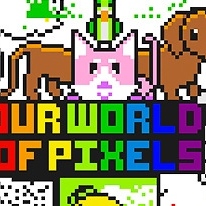 Our World of Pixels
-
10,319 Plays
How to play Our World of Pixels?
Enjoy Our World Of Pixels, an infinite white space where users have the opportunity to draw and create the most fun illustrations with hundreds of pixels of the cabbage you like. Move through a unique environment, and give free rein to your imagination to develop your creativity.
You're just in time to show what an amazing artist you are! Just imagine the craziest idea in your head, and you can make it happen thanks to the different possibilities offered by the game's interface. Select colours with the eyedropper, zoom in or out to draw in more detail and have fun with this relaxing drawing game. Have fun!