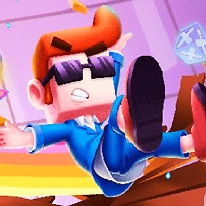 Mr.Bullet Big Bang
1,274 Plays
How to play Mr.Bullet Big Bang?
With Mr Bullet Big Bang you will have the chance to enjoy an amazing physics, cannon and shooting game where you will have to launch people with the help of your cannon to shoot down lots of buildings made of blocks. Are you ready to overcome this great adventure?
Aim and shoot with the right force and direction to successfully complete each level by making a near-perfect parabola. Test your knowledge of physics and tackle increasingly complex and interesting levels as you enjoy cheerful backgrounds, exciting sounds and special effects that will bring you endless joy. Each level you complete earns you gold coins that you can use to invest in new characters and great upgrades - good luck!