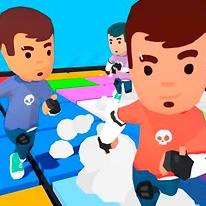 Let's Party
-
2,803 Plays
How to play Let's Party?
Are you ready for a big party in Let's Party? Take on the role of a friendly, energetic character and run around the stage from one end to the other trying to paint most of the squares that make up the floor in your color.
It sounds simple enough, but you'll be up against tough opponents who won't make it easy for you! Move quickly from one side of the screen to the other, and try to collect some power ups that will increase your speed to make your mission easier so you can conquer as many tiles as you can before your time runs out - you'll only have 14 seconds of excitement! Are you ready for a great party?
Who created Let's Party?
This game was developed by Bermuda Games.