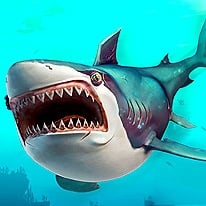 Hungry Shark Arena
-
88,918 Plays
How to play Hungry Shark Arena?
Get ready to have fun with Hungry Shark Arena in an amazing multiplayer shark battle game where you must control a fierce shark and prepare for a dangerous underwater war for ocean domination.
Hunt and grow as much as possible, devour your opponents and become the biggest predator in the sea. Are you prepared to survive a bloody battle? Protect your back, avoid getting blown up by dangerous mines and enjoy the action - good luck!
Who created Hungry Shark Arena?
The Ubisoft company is the creator of this shark game.