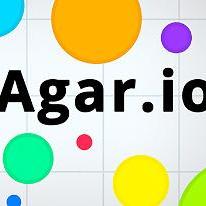 Agario
-
32,961,573 Plays
How to play Agario?
Enjoy Agar.io, the successful multiplayer browser game in the style of battle royale, which created a genre of its own, the .IO games. Many have tried to copy it, but none are up to the original Agar.io.
The big fish eats the small one
Play Hagar.io and become a cell that struggles to survive in a server full of other giant cells, eager to absorb you to become bigger. Control your cell and feed on other players' cells or on particles scattered around the stage. The more you eat, the bigger your cell will be and the bigger your enemies will be.
If you manage to survive and grow, you can become the biggest cell in the server and be the first in the ranking. But don't get distracted, the rest of the players will be eager to take your throne away from you and will be on the lookout for any flaws in you. Fight to stay on top and keep hunting down other smaller players.
In Agar.io you can find three types of entities:
Pellets: These are the particles that are distributed throughout the map. They serve as food and if you absorb them, your cell increases slightly in size.
Cells: similar to yours, they are controlled by other players. The smaller ones can be absorbed, so avoid the larger ones.
Viruses: they have the ability to divide the largest cells into many pieces. If your cell is small, you will be able to use them to protect yourself from enemies much bigger than you.
But it's not all about eating. Divide your cell and throw a part in the direction of the cursor. You can catch an absent-minded enemy and absorb him, or perhaps use him to escape a particularly dangerous enemy. Your cells will rejoin after a while of playing.
Before you start your game, you can customize the appearance of your cell. You have a selection of aspects to choose from, or you can create your own with an image of yourself. And to let everyone know who you are, you can name the cell after yourself.
Choose from 4 game modes:
FFA
Battle Royale
Teams
Experimental
Who created Hagar.
Agari.io was created by Matheus Valadares, a Brazilian developer who was only 19 years old, in 2015, publishing it on Reddit and achieving great success in a very short time, thanks to its dissemination on social media and platforms such as Twitch and Youtube. During that year they were improving and updating it until the end of that year they released the iOS and Android versions.
Are you ready to face the rest of the cells and fight to be at the top of the ranking?
How to get a skin in Agar.io?
While playing you will notice several different skins floating around in Agar.io. To access them, it's as simple as typing the name of the skin you want to use (if you already have it unlocked). You can also select it from the list of skins in the "owned" tab.
How to split attack in Agar.io?
Split attacking is when you are at least 266% bigger than another player and you split on them to consume them. Note that you split in the direction of your mouse. When you are a full cell, you only need to be 10% larger than another player to consume them, however, when you are split, your cell must be 33% larger than your target.
How to remove lag from agar.io?
Choose the server closest to your location
Disable your browser extensions and add-ons
Close other tabs, stop other network-consuming operations
Play Agar.io in incognito mode
Agar.io "No Skins" Settings
Minitorneos, chat & make friends
🕹️ Which games are similar to Agario?
❤️ Which are the latest Multiplayer Games similar to Agario?