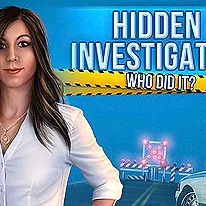 Hidden Investigation: Who Did it?
3,463 Plays
How to play Hidden Investigation: Who Did it??
Officer Sarah, a famous police detective, is on her way to investigate a new and mysterious crime in Hidden Investigation Who Did It? The lovely Lacy Monroe has disappeared without a trace and the town's police chief is clear about it, if he wants to successfully solve the case our favourite detective is the only one capable of finding the answer.
Take on the role of Sarah and prepare to solve puzzles, find hidden objects and interrogate interesting characters to get to the bottom of this case. Dive into a world where secrets and betrayals will test your brain and your professionalism. Have fun!