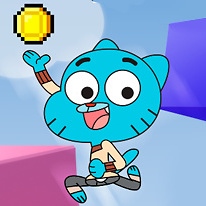 Gumball's Block Party
14,486 Plays
How to play Gumball's Block Party?
Are you a big fan of the Gumball's Amazing World series? Then Gumball's Block Party is made for you! Test your wits, your balance and your incredible reflexes, and get ready to take your character to the top of the tower while collecting coins and power ups that will allow you to get even higher.
As you collect enough coins, you'll be able to unlock new characters to enjoy this exciting adventure, with Gumball, Darwin, Anais, Carrie and Richard all waiting for you to have a great time! Good luck...