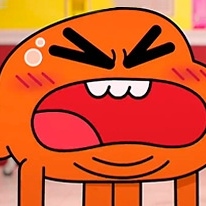 Gumball: Tidy Up
28,622 Plays
How to play Gumball: Tidy Up?
Oh no! Chaos has broken out in Darwin's house! His unruly friends from the series The Amazing World of Gumball have destroyed everything in their path after a fun meeting of friends at his house. You have to fix everything quickly before your parents return! They haven't left a single piece of furniture or painting in place. Will you remember what condition it was in before the wreckage? Fix it all before your time runs out! Check every room for damage and make the living room, dining room, bathroom, garden and bedroom look like new in just 30 seconds. Collect a few extra seconds while you tidy up the house and make sure your parents don't find out what happened, and make sure your friend Gumball doesn't mess up the rooms you've already managed to fix!
Characteristics:
Enjoy playing with the characters of your favorite series.
Show your good reflexes.
Organize and fix the whole house in just 30 seconds.
Some of the damage will need more clicks to be fixed.
Keep your friends from messing up some rooms again.
Get the highest score.

Enjoy more games from Gumball and his friends like School House Rush, Gumball: Strike! Ultimate Bowling at Minigames.com!

Minitorneos, chat & make friends
🕹️ Which games are similar to Gumball: Tidy Up?
❤️ Which are the latest Kids Games similar to Gumball: Tidy Up?
🔥 Which are the most played games like Gumball: Tidy Up?