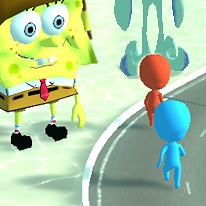 Fun Race: SpongeBob World
6,110 Plays
How to play Fun Race: SpongeBob World?
Fun Race: SpongeBob World arrives with a new version inspired by the sea scenes of Bikini Bottom and accompanied by our fantastic friend SpongeBob! Take on the role of a superb racer and get ready to race as soon as the countdown stops - will you make it to the finish line safe and sound and in first place?
Pit yourself against one or two other opponents and avoid running into dangerous obstacles and traps along the way, as they will slow down your movements for a while, allowing your opponents to overtake you. Test your amazing reflexes and race through the stage with the likes of Squidward, Patrick, Plankton and SpongeBob!