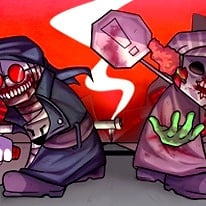 FNF: Antipathy
20,929 Plays
How to play FNF: Antipathy?
FNF: Antipathy is an excellent and unique Friday Night Funkin' mod based on the web series Madness Combat in which you will have to enter the wildest lands of the desert of the state of Nevada while you get ready to participate in a unique musical challenge.
Tricky and Hank are waiting for you on the other side of your computer screen, ready to duel with you as you perform the most sinister and fast-paced songs from this fantastic classic. Tune each chord to perfection, be patient and enjoy the music and its rhythm as you do your best to put an end to this musical nightmare successfully. Good luck!
Who created FNF: Antipathy?
This mod has been developed by Ito Saihara, Ehtma Reiner, itsYabo, LittleGeecko and many more artists.

Minitorneos, chat & make friends
🕹️ Which games are similar to FNF: Antipathy?
❤️ Which are the latest Music Games similar to FNF: Antipathy?
🔥 Which are the most played games like FNF: Antipathy?