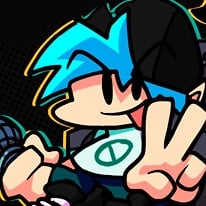 Friday Night Funkin' Flipside
66,463 Plays
How to play Friday Night Funkin' Flipside?
A new mod has arrived in Minigames for you to enjoy this exciting musical game called Friday Night Funkin' Flipside like never before. Are you ready to prove your unconditional love for your girlfriend in a tough showdown where you will prove your great talent as a singer to rekindle the flame of love?
Enjoy a slightly different but just as original version over 2 rhythm-filled weeks with 9 new songs, 6 unique levels and 3 additional tracks as you watch your surroundings and characters change color 3 times. Don't let your nerves get the best of you and win one more time!
Who created Friday Night Funkin' Flipside?
This mod was developed by Summus.