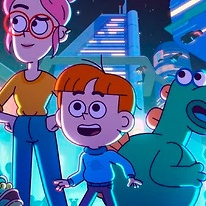 Elliott From Earth: Crystal Chaos
2,824 Plays
How to play Elliott From Earth: Crystal Chaos?
Elliott from Earth: Crystal Chaos is a fun adventure game based on the famous sci-fi animated TV series Elliott from Earth. It's time to guide Elliott through his first days on an unknown alien planet.
Travel carefully around every corner, strike up conversations with some of the inhabitants and complete some dangerous missions to gain the trust of your new friends Mo and Frankie. Rescue the lost crystals across the biosphere planet 1138 and live in harmony with dozens of different species! Good luck...