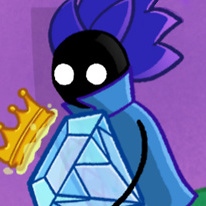 Cat Burglar and the Magic Museum
1,372 Plays
How to play Cat Burglar and the Magic Museum?
Have fun with Cat Burglar & The Magic Museum in an exciting arcade game in which you have to play the role of a skilled white-collar thief and steal as many artworks as you can from a museum to sell them later on the black market and get lots of money for them.
Don't risk too much or the security guard will catch you and take you straight to the dungeon. Think carefully about the right moment to turn around without being spotted, and invest your earnings in improving your stealth and stealing speed - become an unstoppable thief and empty every last corner of the entire museum!

SELECCIONAR/ROBAR/COMPRAR