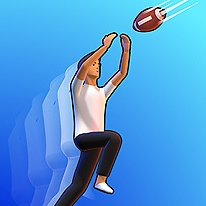 Catch And Shoot
2,326 Plays
How to play Catch And Shoot?
Slide and run with your player as fast as you can as you find a way to get your ball as far as possible in Catch And Shoot to score an incredible goal and claim victory! Test your reflexes as you dodge your opponents and the many obstacles in your way and throw the ball as hard as you can to your goal scoring partner.
It looks easy enough, but one wrong move could end the game in seconds! Run as fast as you can, watch your surroundings carefully and don't waste a second or you'll lose your turn to throw the ball. Cross the finish line in record time and multiply your points so you can invest them in new fun skins!