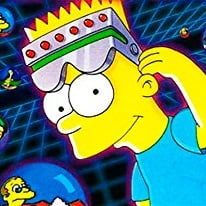 Virtual Bart
37,480 Plays
How to play Virtual Bart?
Are you ready to live a magical experience with our beloved Bart Simpson in Virtual Bart? Have fun with this retro game developed for Nintendo in 1994 and inspired by one of the most watched and loved series in the world. Our rebellious friend has decided to take a chance and try out the virtual reality machine in the school science quiz, but will this time the prank finally get Bart to bite the bullet?
Once you put on the huge goggles, you'll have to spin a little wheel to randomly select the level you'll have to face, so get ready to face the craziest and craziest situations! Take on the role of a pig in a Krusty's slaughterhouse, slide down a water slide while dodging some traps and obstacles, throw tomatoes at some of your classmates on picture day, fight dangerous cavemen, ride a motorcycle through Springfield at its most apocalyptic, and become a baby again while hanging from trees and your neighbors' clotheslines.
Minitorneos, chat & make friends
🕹️ Which games are similar to Virtual Bart?
❤️ Which are the latest Classic Games similar to Virtual Bart?
🔥 Which are the most played games like Virtual Bart?