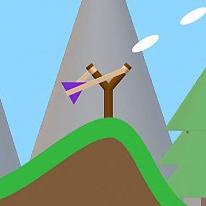 Triangle Toss
6,793 Plays
How to play Triangle Toss?
Get ready to test your aim in Triangle Toss! Participate in exciting competitions where you must prove your amazing aim to win lots of money. Aim and shoot the arrow as far as you can! Will you be able to cross the entire field and reach infinity?
Take as much momentum as you can with the giant slingshot and aim in the right direction to set the trajectory that will give you the most benefit. Invest all the money you earn in upgrades that allow you to improve your air resistance, increase your bounce, or enhance your coin-collecting magnetism - have fun!