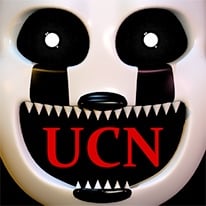 Ultimate Custom Night
1,727,900 Plays
How to play Ultimate Custom Night?
A new and sinister and tremendously terrifying adventure has arrived at Minigames ready to make your hair stand on end! Dive into Ultimate Custom Night, the definitive Five Nights at Freddy's game, and get ready to once again take on the role of the security camera man at Fazbear's Pizza fast food restaurant.
You'll once again be trapped alone in an office defending yourself from killer animatronics. With 50 selectable characters spanning seven FNAF games, the customization options are nearly endless. Mix and match the characters you want, set their difficulty from 0 to 20 and jump into the action!
From your office desk, you'll have to manage two side doors, two air vents, as well as two air ducts, all of which lead directly into your office. This time you will also have to master other tools if you want to complete the last challenges, tools such as heating, air conditioning, a global music box, a power generator and much more. As if all this were not enough, you will also have to place laser traps in the ventilation ducts, collect Faz-Coins, buy items at the prize counter.
As night falls, calm seems to come to the restaurant, but don't trust it! The dangerous animatronic dolls hiding among the leftovers will do everything they can to try to scare you to death. In this version, you will be able to customize and select your favorite creatures to torment you during the game. Enjoy!
Who created Ultimate Custom Night?
Scott Cawthon is the creator of this and the entire Five Nights at Freddy's saga.

Minitorneos, chat & make friends
🕹️ Which games are similar to Ultimate Custom Night?
❤️ Which are the latest Adventure Games similar to Ultimate Custom Night?
📽️ Which are the most viewed videos and gameplays for Ultimate Custom Night?